Members
Contact Information
Sébastien Combéfis
Alumni
UCL / EPL / ICTEAM / INGI
Place Sainte Barbe, 2
1348 Louvain-la-Neuve
Belgium

Office: Réaumur A.143 (1st floor)
Phone: +32 10 47 91 05
Fax: +32 10 45 03 45
Email: Sebastien [period] Combefis [snail] uclouvain [period] be
Biography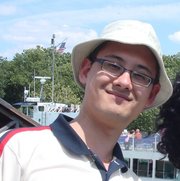 Sébastien Combéfis was a PhD student from September 2007 to September 2013 and worked as a teaching assistant in the Computer Science and Engineering Department at Université catholique de Louvain in Belgium. He is doing research in the formal methods for human-machine interaction (HMI).
---
Publications
Talks
A Formal Framework for Design and Analysis of Human-Machine Interaction. Sébastien Combéfis. 2011 IEEE International Conference on Systems, Man, and Cybernetics, October 9-12, 2011, Anchorage, AK, USA.
A Bisimulation-Based Approach to the Analysis of Human-Computer Interaction. Sébastien Combéfis. ACM SIGCHI Symposium on Engineering Interactive Computing Systems, July 14-17, 2009, Pittsburgh, PA, USA.
---